Eliminate your stress, establish realistic goals, communicate, and visualize in 3D before you build.
We specialize in conceptual 3D images with an emphasis on graphics for the many professions involved in architecture and real estate development.
Our work includes architectural renderings, 3D walkthroughs, video compositing, conceptual design, photography, mapping, and site analysis.
Commercial Real-Estate
Residential Real-Estate
Remodels
New Construction
Landscaping
Pre-Visualization
Concepts
Presentations
3D Architectural Visualization
Plan
Take your designs to the next level, discuss them with your team, and plan accordingly. Set expectations at the beginning.
Concept
The Zero8 Design team will work as much or as little with you as you would like to design your project.
Render
Using our collected data from your project we then provide you with 3D Wireframe to make sure you approve of the direction.
FInalize
Now that wireframing is approved we finish our project with any number of 3D renderings to your exact specification.
Where Virtual Meets Reality
We are breaking down the barriers between concepts and reality. At Zero8 Studios, our skilled 3D designers can custom craft anything you can imagine.
The process is easy. Add Zero8's 3D Visualization Services to your new construction or remodel today.
We can help
Rendered Remodels

Rendered Custom Homes

Framing, Tile, Paint, Stone

Technical Design

3D Animation

3D Walkthroughs
Flooring

Wall Colors

Fixtures

Hardware

Ceilings

Materials

Landscapes
Design Consultation

Floorplan Design & Configuration

Construction Measurements

Preferred Contractors

Contractor Management
Conceptual Design

Technical Diagrams

Residential and Commercial Real-Estate Visualization

3D Walkthroughs

Contractor Management Services
The Zero8 Design team has over 20 years of experience developing high-end 3D content for just about everything, you can imagine.
We take pride in the work that we do. Making your vision come to life no matter how challenging the concept.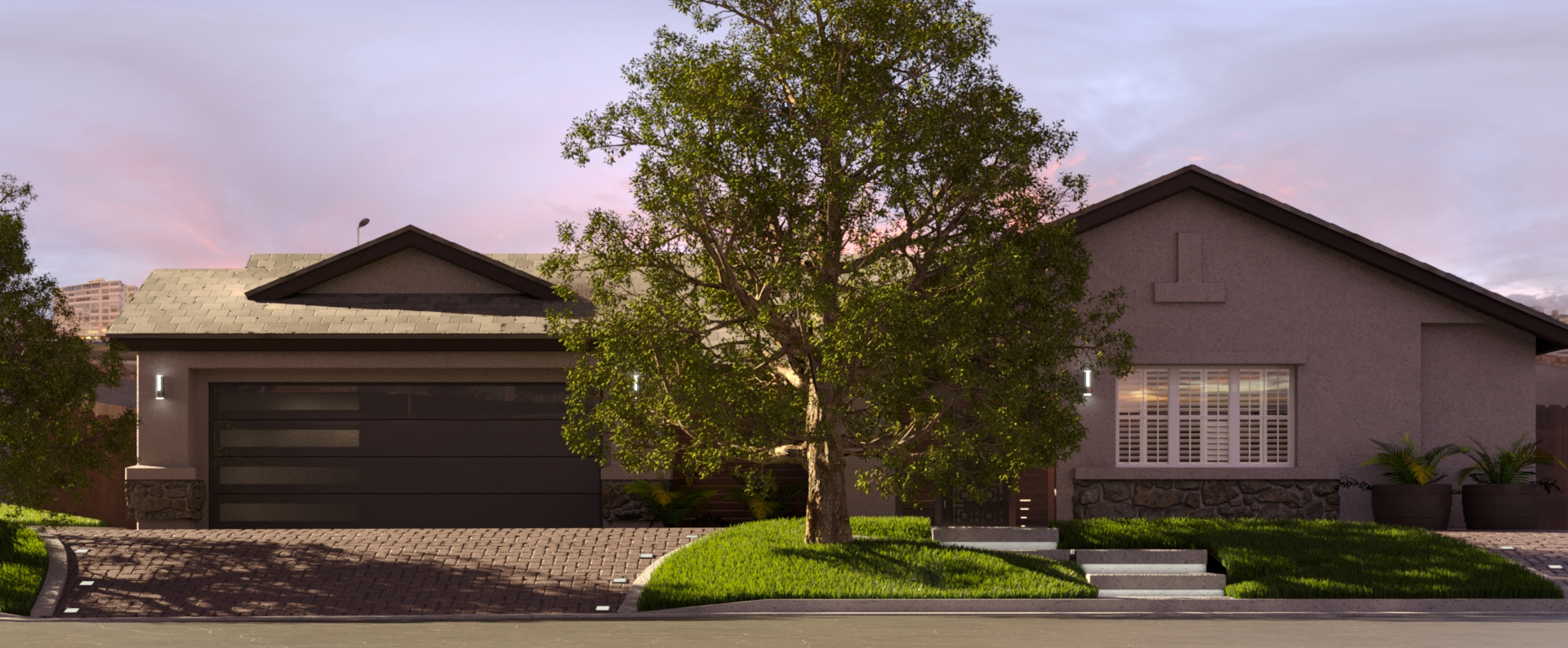 Upgraded Garage Door based on manufatures specification.
New paint color over stucco body and wood trim for a modern look.
New paver drivway with runway style lighting on left and right sides.
Modern Walkway with under step LED lighting.
New landscaping layout to accomadate the new driveway and walkway.
Upgraded light sconces on all sides of house.
New modern front entreance garden/security gate with art deco address numbers.
We're Zero8 Studios, a creative agency located in the heart of Northern, Nevada. We pride ourselves on developing unique and professional visualization with a wide variety of mediums. Take a look around and don't be shy.
What we can help you achieve
Simple and Effective Communication | 3D Rendering Design Work | 3D Design Plans